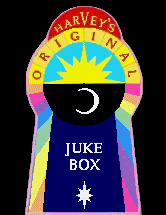 (all selections in Ogg Vorbis format)
Vocals and Guitar: Harvey Smith.
Lead Guitar and everything else: Rafi Sofer.
Words and music: Harvey Smith.
Sound Recording: Rafi Sofer on his analog 8-trk.
Recorded: spring 2001.
I wrote this song sometime in the early 90's.
no more songs at this time.
Additional Notes for Thinking About You
Well one day I was eating at one of the meals and thinking about you... still. The phase thinking about you stuck me to be a common name for a song (or theme anyway). At the time i was into doing what had already been done and decided to write a song called ... well you know... I wrote Rock On Me in the same fasion also around that time.
Recorded in a garage in JP on Rafi's 8 trk (or is that 7 trk) plus Rafi also plays most of the parts/instruments.