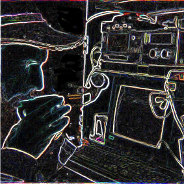 Me on the Internet
Here is a list of ways to potentially communicate with me or follow what I am up to. I am not known to post things very often. Of course you can always contact me through regular old email at harvhat@buskers.org.
I going to try posting audio (usually) and video (sometimes) to the LBRY protocol. You can check out my LBRY channel here.
I've been streaming often (couple times a week) on Vimm.Tv. Here you can watch me talk to myself between songs and hear all the mistakes!
You can follow @harvhat on twitter. I don't tweet often, except for tweeting @ some company that has no good contact method (customer support these days!) Perhaps if I had more followers they'd actually pay attention to me!
You can subscribe to my YouTube channel although I haven't uploaded a public video ever. Perhaps if I get 10 subscribers I will? Nah probably not, I'm more likey to put a video up on LBRY.
I'm Gonna try probably also get a Twitch account. (again, maybe)
But wait there's MORE! You can communicate with me using: telephone, xmpp, wire, discord... and such. Just email me via harvhat@buskers.org first to arrange it.
I have a GitHub account. Code is Art afterall. Though I really host most of my own code on my own machines or elsewhere, like bitbucket.
I am NOT on Facebook 👍
Oh yea, I even have a LinkedIn account (nobody's perfect). I'll leave finding that as an exercise for the reader.