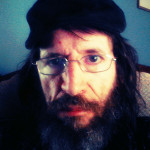 Me on the Internet
Here is a list of ways to potentially communicate with me or follow what I am up to. I am not known to post things very often.
Of course you can always contact me through regular old email me at harvhat@buskers.org.
My offical "home" page is right here, often chronically out of date although I've been keeping it (slightly) more up-to-date recently.
You can follow @harvhat on twitter. I tweet therefor I am? Or (more typically) therefor I am trying to tweet @ some entity that has no other good contact method in order to complain about something or get support. Perhaps if I had more followers they'd actually pay attention to me!
You can subscribe to my YouTube channel although I haven't uploaded a public video ever. Perhaps if I get 10 subscribers I will?
Or follow me on Twitch though I rarely go live there. I'm thinking of streaming on Vimm.Tv which is connected to the STEEM blockchain.
As I just mentioned STEEM. I've recently joined Steemit so I might post a thing or two over on the STEEM blockchain. It's just an experiment for now.
I have a GitHub account. Code is Art afterall. Though I really host most of my own code on my own machines or elsewhere, like bitbucket.
You can also follow me on google+ if that rocks your boat. But your boat is sinking!
You can try searching for harvhat on wire or keybase. (and possibly even more places), see next item.
And not only that, but there's still MORE ways to communicate with me, including: telephone, xmpp, mastodon, signal, mumble, discord, telegram, skype, and google hangouts. Contact me through one of the other above methods (like email) first if you need to arrange communication with me using any of these methods.
I am NOT on Facebook ;-)
Oh yea, I even have a LinkedIn account because nobody's perfect. I'll leave finding that as an exercise for the reader.