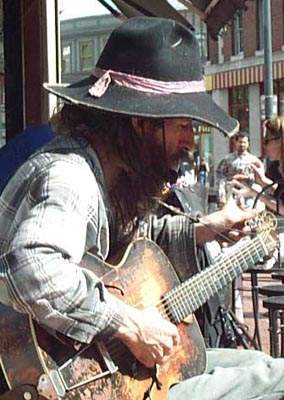 Greetings and Welcome
This site is about the music that is trying to escape from where it is, to you. It should be a simple matter to distribute this music over the internet to all, but it isn't, yet. From this site I will do my best to get my music, and the music of some other people and friends that I know, to you.
My name is Harvey Smith, and I am a street performer, also known as a busker (ie. I'm a musician that plays guitar on the streets for tips and calls himself an artist.) I've been busking for many years, mostly in the Cambridge/Boston, MA (USA) area. You can hear my music, if you can find me playing, for free; then if you wish, and can afford to, you can make a donation to my 'hat' or case. In fact you probably found this site because you found me first and I told you about it. But enough of the introduction click to enter my home pages and learn more about me and what I'm up to now (or was up to the last time I updated the site.)
Enter Harvey's home - My homepages, more about me, and there is (usually) some music to listen to.
Harvey - December 2004 (very subtly different then the 2003 introduction.)
contact me