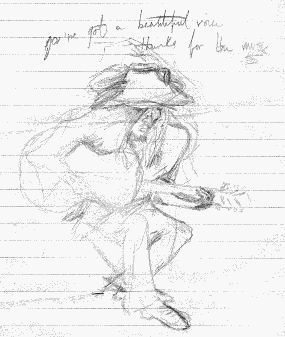 Say, what's on the fridge?
I should have some recipes 'round here somewhere, maybe soon.
I probably need money but...
Just in case your not into donating artwork, here's a shopping list of other things I think I really need, of course what I don't get I probably didn't need and what I really need I probably didn't put on the list, so feel free to be creative. Sketches are cool. Sign the guest book and leave a message if you can help out in any way.
Wish List
Computer Equiptment

Any old hand-me-down computer stuff, working flat screen monitors and SSD's.
Webcams, microphones, recording or podcasting gear.

Did I mention MONEY yet? This stuff is quick and easy (for some people) and readily transferable into the things I think I need (like a train ticket home to see mom), even a little spare change helps.
Ohh, I almost forgot food! Which is often the thing the money is transfered into. Food isn't really that hard to find. It's good, home cooked food that is a treasure... (like COOKIES !)
Hey, it never hurts to ask. Sign the guest book and leave a message if you can and want to help out.